Thanks for visiting Redstone Cyclery online! We've worked hard to make a visit to our website as friendly and helpful as a visit to our shop. Take some time to check out the site and to see what Redstone Cyclery is all about!
Here's a short video recap of our 2016 annual Big Fall Ride.  Over 5500′ of climbing and 53 miles!
Big Fall Ride 2016 from redstonecyclery on Vimeo.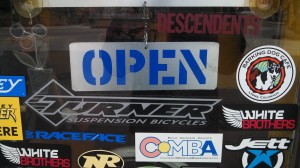 Latest News from the Redstone Underground
Tue, 12 Apr 2016 02:55:00 +0000: Spring thaw - redstone underground


Finally! Bella and I got out today and were very happy to see that things higher up are starting to thaw out. Woot!

good one

- redstone underground

I'ma put this right here...

http://singletrackworld.com/2016/03/10-ways-to-be-a-dick-in-your-local-bike-shop/

Tue, 29 Mar 2016 17:23:00 +0000: Still Snowy! - redstone underground


Took the dogs up into nearby USFS today so they could run around. I was hoping to see at least a little bit of rideable dirt but it simpl...

Tue, 16 Feb 2016 02:50:00 +0000: Tues Nite Ride 2/16 - redstone underground


This Tuesdays ride will be a tour de Brainard on the fatbikes. Redstone at 6pm and we will carpool up!

- redstone underground

This just in! Boulder County is ready to move on the "Heil 2" parcel of Open Space! However, it's not a great plan.

Not surpri...